Are you a foodie but you always worry about the weight that oily food can put on? If yes, then we are in a similar situation. I've struggled over the years for maintaining my weight and satisfying my food cravings at the same.
I always used to find ways to cook food with less or no oil and then an air fryer came to the rescue. This can let you enjoy all foods in only 2% of the total oil that you used in your food previously. It uses hot air to cook the food which is very healthy. Hence air fryer is the best replacement for your old deep fryer.
This article is based on the comparison and review of the Chefman, Faberware, and Gourmia air fryers. A detailed discussion on the features is done down below. If you want to put an end to all health and weight-related worries, just stick with me till the end. By reading the article, you will be able to know the best air fryer among these three and where to invest your money.
Chefman Vs Faberware Vs Gourmia Air Fryer Comparison And Review
Air fryers are easy-to-use appliances that cook food faster and keep you healthy. These are also easy to clean and maintain as most of the models have dishwasher-safe components. They are present in a wide variety and have different price ranges.
Here we will be discussing the three models from Chefman, Faberware, and Gourmia. This will help know your future cooking appliance well.
1. Chefman TurboFry 3.5 L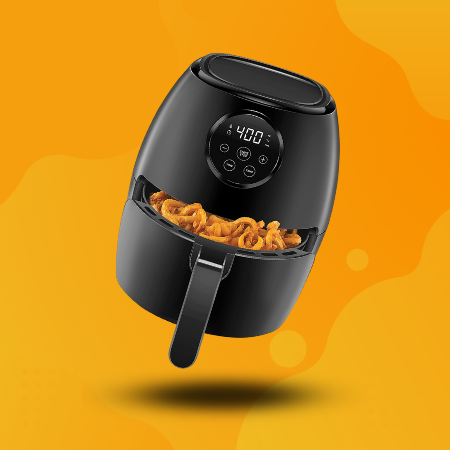 We selected Chefman TurboFry 3.5 L for our review here. This is a great appliance that can bring all your healthy fried food dreams into reality. It has a round shape, and matte black finish and will not occupy much space in your kitchen.
It is easy to store and will even look good on your countertop. The Chefman uses futuristic technology that gives the same taste as fried food. There is no difference in the crispy texture as well. Hence TurboFry can help you healthily satisfy all your cravings.
It has a temperature range from 200 to 400 Fahrenheit and holds 40% of more food than the other models. This has a flat food storage basket and is not even bulky. You can cook food at the desired temperature according to the texture and finish you need.
It uses very less or no oil when we compare it to the normal method of cooking food. The Chefman TurboFry 3.5 L comes with an integrated 60-minute timer and a digital temperature control system.
All the components of this air fryer are dishwasher safe which means that cleaning them is not a big deal. Even if you prefer washing them yourself, soft sponges will work fine. The flat storage basket is non-stick which makes little or no mess as the food does not stick with it. The timer automatically shuts off once so you need not worry about overcooking the food.
2. Farberware 554023059 Air Fryer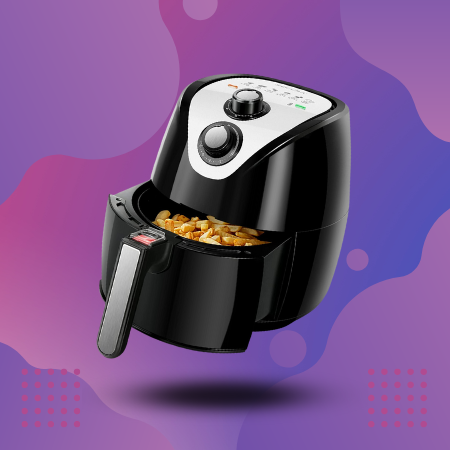 We choose the 554023059 Air Fryer from Farberware. It comes with a RadiVection 360 degrees technology that helps us fulfill all our cooking needs. The food is cooked quicker and tastes the same without a single drop of oil.
You need not go out every day to satisfy your food cravings as it can make your favorite food at home and that too in a healthy way. It has a perfect Crisp System that keeps the food moist and tender from the inside. The tray is removable and non-stick so the food does not stick with it.
The RadiVection 360 degrees technology helps you fry, grill, boil, and roast without any oil. The Express Heat System increases the cooking speed by 30% when compared to a typical oven. The Farberware 554023059 Air Fryer does not have a LED screen. It has knobs only to manage the time, cooking modes, and temperature. With 7 preset cooking modes, this appliance makes sure to cater to all your needs.
This air fryer comes with a kit that includes a crisper tray and a removable non-stick pan. This pan can be washed in a dishwasher as well. It has a mess-free cleaning-up system as no oil is used.
The protective plastic cover can prevent it from the food stain while the feet of this air fryer are non-slip. It stays in place while the food is being cooked. The handles are cool-touch for the user's safety. Hence it is one of the most powerful air fryers that has a decent price. It can compete with all the high-end air fryers in terms of performance.
3. Gourmia GAF318 Air Fryer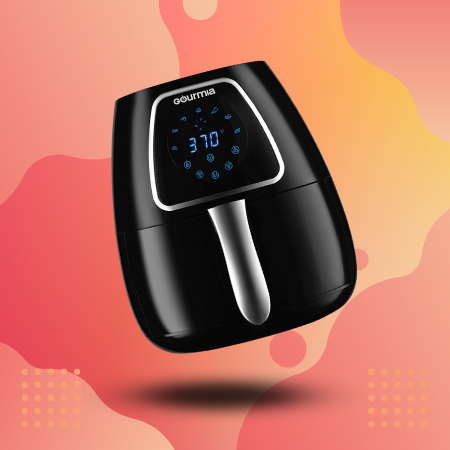 On the last, we have the Gourmia GAF318 Air Fryer. This also comes with RadiVection 360 degrees technology that makes the food faster. The perfect crisp system makes the food crispy and gives it the right texture from the outside even without the oil.
It has an Express Heat System that reduces the cooking time by 70%. This saves a lot of electricity as ovens used to take longer and were supposed to be pre-heated as well.
The LCD in the Gourmia GAF318 Air Fryer helps in controlling the appliance. The display screen is accessible and easy to operate. So you can make all your favorite food in this air fryer. The crisping basket is removable and comes with a non-stick pan. It does not have the smell that usually the air fryers have during cooking the food. Hence it is an easy-to-use air fryer that makes tastier food than the restaurants.
Comparison Between Chefman, Faberware, and Gourmia Air Fryer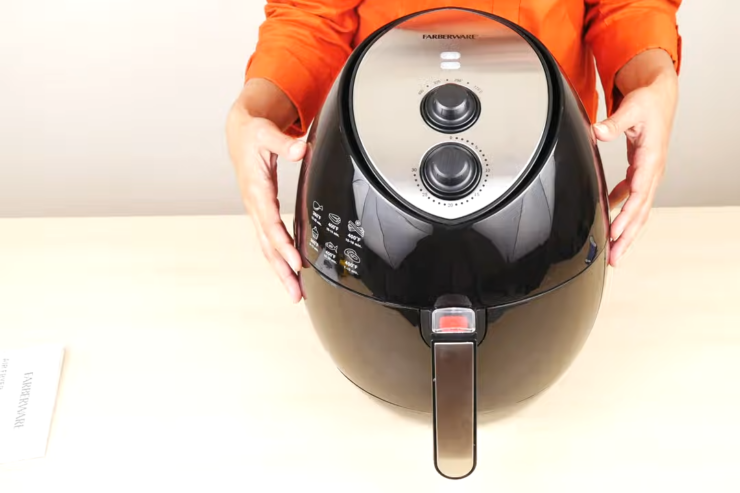 When we draw a comparison between all three models we will be able to observe the differences and similarities in them. As the name tells, the Chefman TurboFry has a capacity of 3.5 liters which is pretty good. You can easily cook meals for 2 to 3 people in this air fryer.
You can easily cook 6-8 large pieces of chicken in only 18 minutes which is amazing. It has some safety features such as the air fryer only works if the tray is inserted inside. It has a space-saving design and will not take much place on the countertop.
The Faberware 554023059 Air Fryer does not have a digital panel and comes with buttons only. It has a capacity of one liter only which is very small. You will only be able to make food for yourself. The buttons or the knobs can control the settings along with the temperature. The power indicator is blue while the temperature indicator is orange in color. It weighs 12.72 pounds.
The Gourmia GAF318 Air Fryer has a 4 quart or 3.7 liters of capacity which is more than enough for 4 people. It has an LCD screen and comes with a one-year warranty. It weighs only 10.6 pounds which is not heavy at all. This air fryer can make food in 30 minutes only. This can fulfill the cooking requirement and size even if you have some people over.
FAQs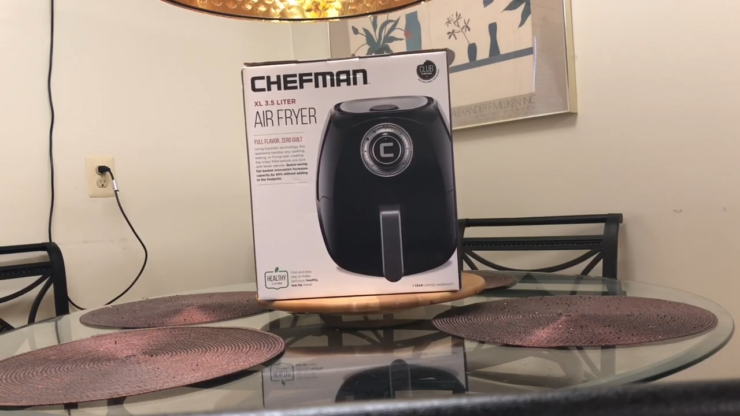 Is Chefman air fryer a good brand?
Yes, Chefman is a good brand that makes high-quality air fryers. These appliances have all the features that will fulfill your demands. They can help you make food faster and in a healthy way. These might be expensive but are worth every penny you pay.
Is a 3.5-quart air fryer big enough?
A 3.5-quart air fryer is suitable for a family of two members. It can make two servings at a time and you will not have to wait. It can also help you reheat all the leftovers as well.
Which air fryer makes the crispiest food?
The Philips Air Fryer is known to make the crispiest food because the air flows around the basket. It is black and has a compact design.
What can you not cook in an air fryer?
Foods like green vegetables cannot be cooked in an air fryer as they will not cook evenly due to the airflow. Cheese, raw grains, and pre-fried foods are also included in this list.
Can you put raw meat in an air fryer?
Yes, raw meat can be cooked in an air fryer. You can place an uncooked piece of meat and set the temperatures. This can perfectly cook the meat for you.
Conclusion
The review of all the three air fryers along with some features are discussed above. You might have a clear idea regarding each of the models. But in my opinion, you should purchase the Chefman TurboFry 3.5 L air fryer. It has enough capacity to make food and has digital settings to control the time. The temperature range is very wide which helps in cooking almost everything. Hence it will be a wise decision to purchase this appliance.
Check out some other picks from Amazon also: