Traditional Mexican recipes and food were adopted into American cuisine as far back as the 1800s, with many of the flavors and techniques coming after the Mexican War. Originating heavily from the dishes of Mesoamericans as they combined native food with those brought from Europe by the Spanish.
We have assembled some easy Mexican recipes for you to create the ultimate Mexican experience for you and your family. These dishes will take little time to prepare but are perfect for that get-together with friends.
1. Arroz Con Pollo Burritos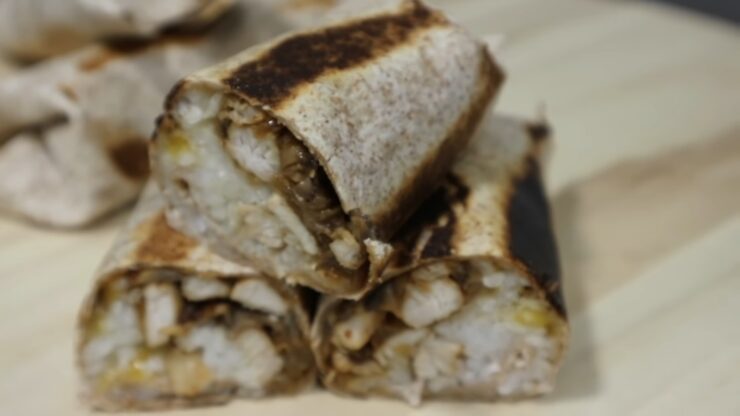 When people think of Mexican food, one of the first items that most people envision is a burrito. A burrito is comprised of flour tortillas wrapped around food. Traditional Mexican burritos generally include some form of protein, whether meat or beans sometimes with added toppings.
The introduction of this food to the United States resulted in the addition of numerous items to make the burrito into a full meal.
There are many myths involving the creation of the burrito, from being created as a fast food during the Mexican Revolution to a food stand vendor carrying them on a rolled-up donkey blanket. Burrito means "little donkey" in Spanish.
Ingredients:
2 Tbs vegetable oil
1 clove of garlic, minced
½ C red onion, chopped
3 C cooked chicken, shredded
1 Tbs chili powder
2 ¾ C chicken broth
1 (16 oz) jar of salsa
1 C brown rice, uncooked
1 (14.5 oz) can of black beans
½ C black olives, sliced
12 (10 inches) flour tortillas
Instructions:
In a large skillet bring the vegetable oil to medium heat, saute red onion and garlic until transparent; add chicken, chili powder, black beans, ¼ cup broth, and ¾ cup salsa and bring to simmer; reduce heat and set aside.
In a large saucepan, bring brown rice and 2 ½ cups broth to boil; reduce heat and cover, and simmer for 20 minutes. Stir in remaining salsa; cover and simmer for 10 minutes or until rice are tender.
Stir chicken mixture into rice to make the filling.
Assemble with 1 cup filling, cheese, and black olives, off-center.
Fold sides on top of filling and roll; serve immediately.
2. Tapatias Con Fijol Pinto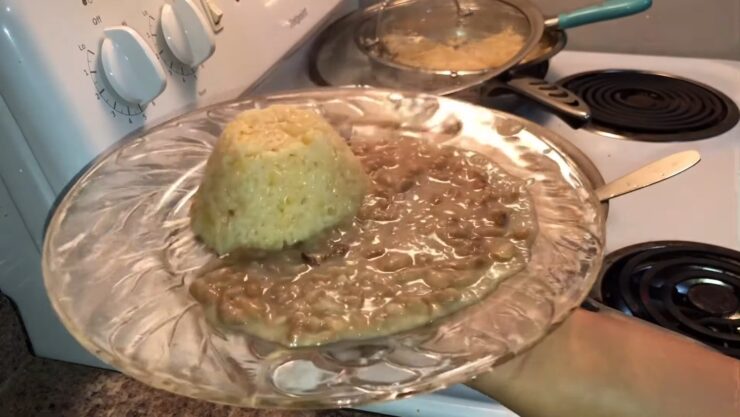 Tapatias is basically a term for anything from Guadalajara. Whether it was actually created there is unknown, but this recipe can be made by you as a great-tasting appetizer. You will need very little time and few ingredients to put this together.
Ingredients:
3 C pinto beans
2 Tbs vegetable oil
4 C Cheddar cheese, shredded
1 head lettuce, shredded
12 crisp corn tortillas
1 can (12 ½ oz) salsa verde
Instructions:
Mash and fry pinto beans in vegetable oil; add green onion.
Spread bean mixture on tortillas.
Top with cheese and lettuce.
Drizzle top with salsa verde.
3. Enchiladas Pollo Con Chile Rojo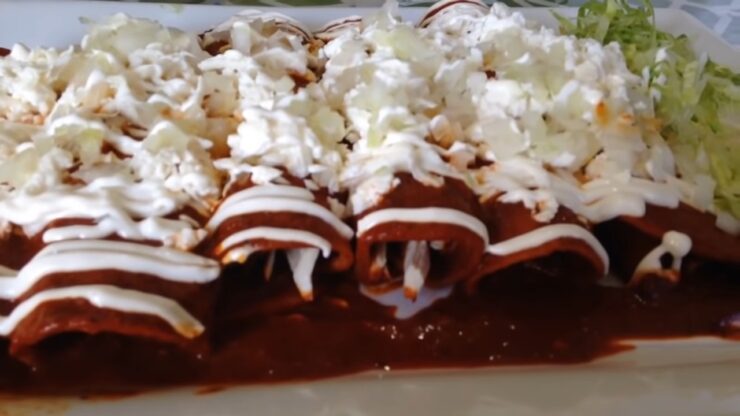 Enchiladas are comprised of a corn tortilla wrapped around a protein and topped with a tomato and pepper sauce. It's roots date back to the Mayans when the Spanish conquistadors documented the natives' food. Enchiladas are a traditional item available from many food trucks and now take up many forms from other cultures.
Ingredients:
1 (8 oz) package of sour cream
1 C salsa verde
3 C cooked chicken, shredded
12 corn tortillas
2 cups Colby-Jack cheese
1 can (12 ½ oz) salsa verde
1 can (12 ½ oz) red enchilada sauce
½ head lettuce, shredded
Instructions:
Preheat the oven to 350 degrees F (175 degrees C); grease 9×12 in a square baking dish.
Combine sour cream, salsa verde, and chicken; mix until consistent.
Fill tortillas with mixture, roll, and place in baking dish.
Spread cheese over tortillas, and top with enchilada sauce.
Bake for 30 minutes or until heated throughout.
Garnish with lettuce.
4. Sopa De Lima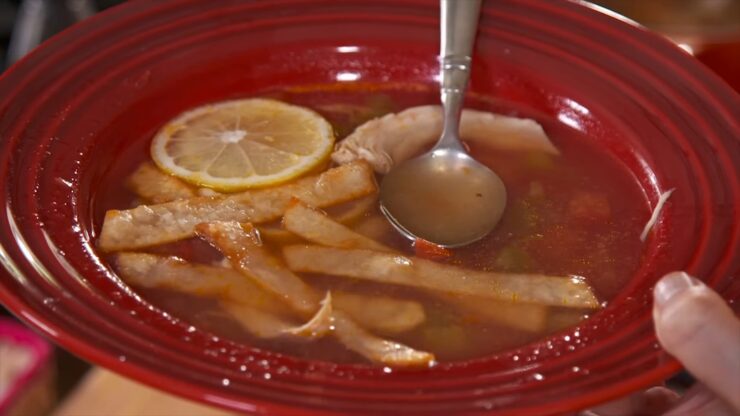 Heralding from the Yucatan peninsula, this traditional soup spread throughout Mexico and into the United States in the 20th century. It's a great go-to when you need to help someone sick or simply seek a chicken soup with a kick. Very few ingredients and not much time is needed to make this lime soup.
Ingredients:
2 tsp vegetable oil
¾ C onion, diced
½ C green bell pepper, diced
1 clove of garlic, minced
6 C chicken stock
2 C cooked chicken, shredded
1 can (12.5 oz) diced tomatoes, drained
1 tsp chili powder
1 lime, halved and juiced
crunchy tortilla strips, for garnish
Instructions:
In a large pot, saute onions, pepper, and garlic over medium heat until soft.
Add chicken stock, juice from the lime, and leftover lime halves, stir.
Add chicken, diced tomatoes, and chili powder; heat throughout.
Remove lime halves.
Garnish with tortilla strips.
5. Huevos Motulenos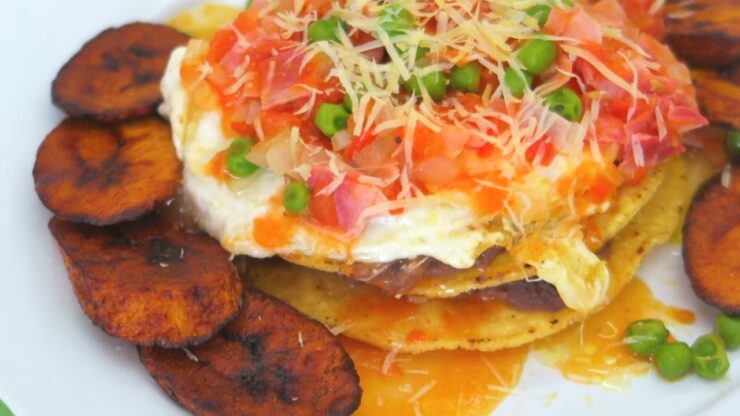 Another item from the Yucatan peninsula, Huevos Motulenos is an easy and fast food to prepare. Served as a breakfast dish, this recipe combines traditional morning fare such as eggs and ham with Mexican ingredients. There are many variations on this dish, including the addition of peas or plantains.
Ingredients:
8 crispy corn tortillas
1 ½ C ham, diced
1 can (12.5 oz) diced tomatoes
1 can (12.5 oz) of refried black beans
¼ tsp cayenne pepper
8 eggs
2 C Monterey Jack cheese, shredded
cilantro, for garnish
Instructions:
In a medium saucepan, combine ham, tomatoes, beans, and cayenne; heat throughout.
Meanwhile, in a large skillet, fry eggs until done.
Top tortillas with ham and bean mixture; place 1 egg on each.
Top with equal parts cheese and cilantro; serve warm.
6. Margarita Pie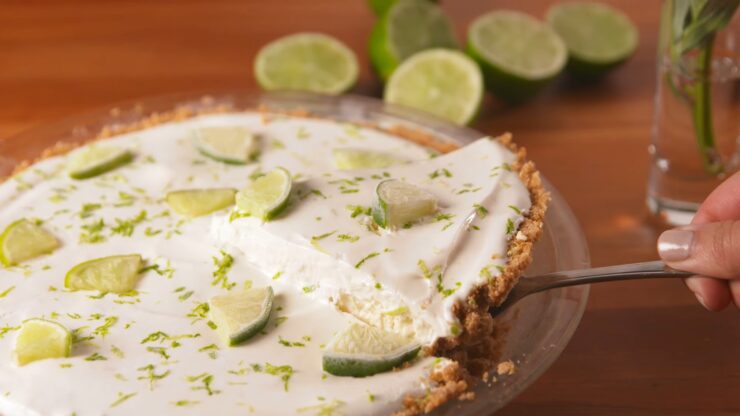 Every good meal deserves a dessert. Margarita pie works as one of the great ways to finish your exploration into Mexican cuisines.
Ingredients:
4 eggs, separated
1 package unflavored gelatin
1 cup sugar, divided
¼ tsp salt
1 lime, zested and halved
¼ C tequila
9-inch pie shell, baked
Instructions:
In a medium saucepan, combine gelatin, ½ cup sugar, and salt.
Beat egg yolks and juice from lime together; add to gelatin mixture.
Cook over medium heat for 5 minutes until gelatin incorporates; remove from heat.
Add lime zest and tequila; refrigerate until thickened.
Beat egg whites and remaining sugar until stiff with peaks.
Fold into mixture and place in pie shell.
Refrigerate until chilled and stiff.
7. Rompope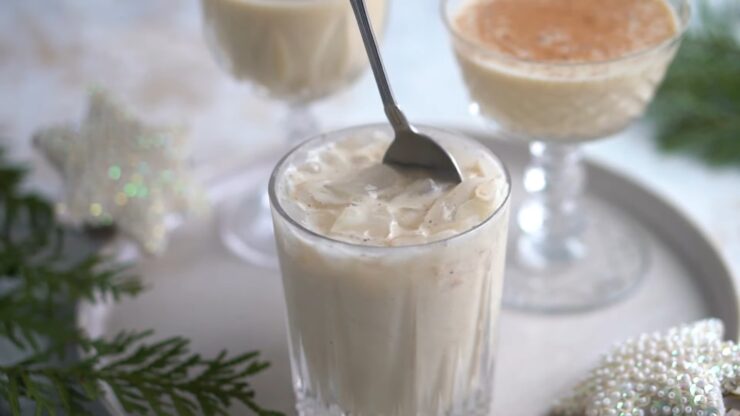 Rompope is a Mexican version of egg nog served year-round for special occasions. It is believed to have been created by Sister Edugives at a convent in Puebla. After some convincing, the convent began distributing the drink commercially to raise funds. Rompope is fairly easy for you to make and is a great way to finish off the evening after a sample of wonderful Mexican cuisine.
Ingredients:
4 C milk
8 egg yolks
1 C rum
½ C almond paste
½ tsp vanilla
ground cinnamon
Instructions:
In a large saucepan, combine milk and sugar; bring to boil.
Reduce heat and simmer for 3 minutes.
Beat egg yolk until thickened.
Stir milk mixture into eggs 1 cup at a time until thick; return to heat.
Add almond paste and vanilla; stir and heat for 3 minutes.
Remove from heat and cool, stir in rum; chill in the refrigerator.
Serve with sprinkled ground cinnamon.
Did you enjoy the list? We hope some of these easy Mexican recipes sound good and are something you believe you can try at home. While they are mainly simple foods, they have much in common with their ingredients and style. Mexico is awash in culinary tradition and we believe you can add some of these recipes to your cooking repartee.
We hope you can enjoy these recipes with friends and family and most of all have a good time cooking and enjoy the food! As always, let us know what you think in the comments section, and feel free to share with friends.