From enchiladas to tortas, Mexican cuisine is highly delicious and mouth-watering. It is one of the most popular types of food around the world and with good reason. It's rare to find such delectable dishes anywhere else.
You may not yet be a big soup fan, but after making and tasting some of these classic Mexican soups, you will be!
Whether you want to prepare a special meal for your family or celebrate an event with friends, we are confident that the following Mexican soup recipes will be a success.
1. The Soup You Wouldn't Expect: Pozole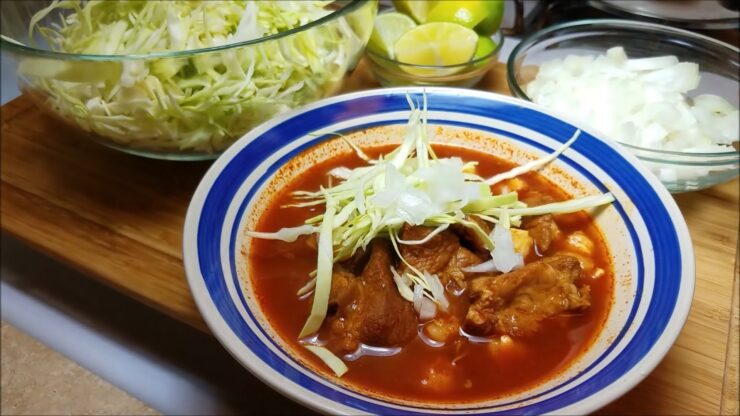 Pozole is something special for most people who try it. Made from a variety of ingredients such as tomatillos, green chiles, and hominy. While at first glance, you may wonder if it's as good as people say it is, once you've had it, you'll want it again.
Here are the ingredients that you will need:
Cilantro
Chiles
Onions
Hominy
Oregano
Pepper
Garlic
Chicken
Lime
Avocado
Shredded Cabbage
Tomatillos
The part of this soup that may be the most challenging is making sure that the hominy is cooked to perfection. If you get that right, then you can be sure that your pozole is good to go.
You can either cook the chicken in the same pot as the hominy or cook it separately, but the chicken broth is what helps to add flavor to your pozole soup. Add garlic, salt, pepper, and oregano, close the lid and let it cook. It should take about 40 minutes to cook.
Make a salsa out of onions, a touch of cilantro, tomatillos, and garlic. Remove the chicken from the pot and add salsa to the hominy. Shred the chicken and leave it out to accompany garnishes of lime, avocado, shredded cabbage, and cilantro. It is sure to be a hit in your household!
Easy Mexican appetizers are always a good idea to spice up your meal.
2. The Soup You'll Always Want: Tortilla Soup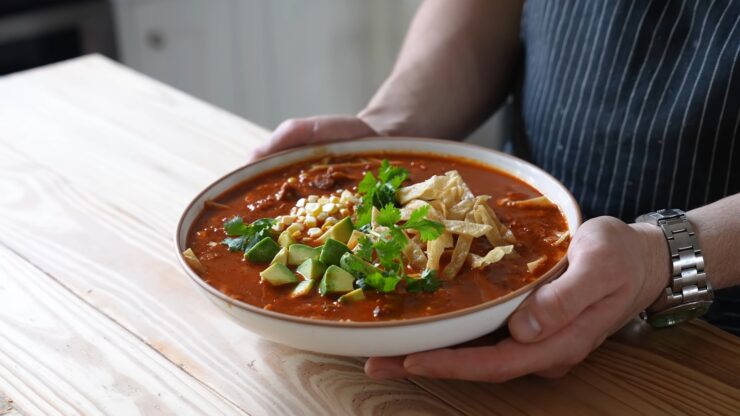 If you are looking for something with cheese and deliciousness, tortilla soup is an all-time favorite for many. It's perfect for when the weather starts changing and cooling off or for a dinner with friends.
The following ingredients are needed for one of the most perfect and easy Mexican soup recipes:
Tortilla strips
Avocados
Onions
Garlic
Salt
Tomatoes
Queso fresco
Mexican cream
Chicken broth
Chipotle peppers
Whether you prepare chicken to save for later or already have some extra broth around, chicken broth helps to add a great flavor to this traditional Mexican soup. First fry the garlic, onions, tomatoes, and chipotle pepper (if you want it to be a tad spicy).
When these ingredients are browned, blend them, and add them to chicken broth. Let the soup simmer and even come to a boil for up to 25 minutes. Add salt to the mix while it's cooking.
Set aside queso fresco, avocados, onions, cilantro, tortilla strips, and cream for individuals to add to their soup, as they wish. This authentic Mexican soup will be sure to be a guest favorite!
You can either buy tortilla strips that have already been prepared or simply fry fresh corn tortillas.
3. You Can't Get Enough of It: Birria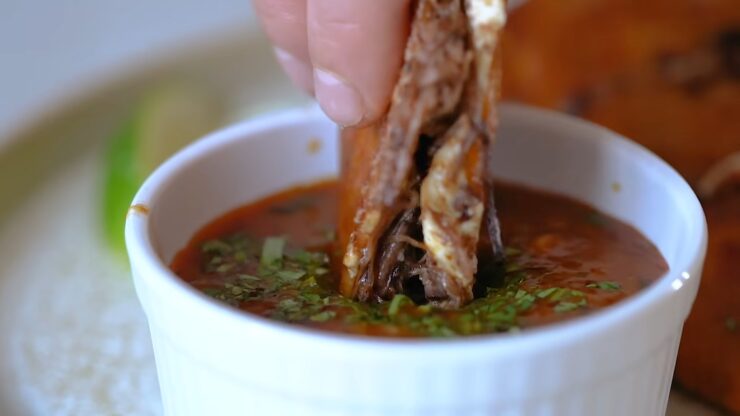 A Jalisco favorite, this is one of the yummiest and of course, easy Mexican soup recipes that will impress your guests. It can be compared to an American stew but with an extra kick of flavor.
Make sure that you have these ingredients:
Lamb meat
Lamb stock
Chipotle peppers
Guajillo peppers
Ancho peppers
Onion
Garlic
Cumin
Bay Leaves
Oregano
Thyme
Salt
Pepper
Tomatoes
Coriander
Avocado
Lime
You will first want to boil the lamb stock and get it hot for the lamb meat (cut in cubes). Keep an eye on the meat for about an hour and add garlic and onion for flavor at the halfway point. Fry the peppers, boil them for a few minutes to soften them, and then blend in a food processor or blender.
Once you see that your meat is done cooking, let it cool and then shred. In the meantime, add the blended peppers, thyme, bay leaves, oregano, and salt to the stock.
Add the meat back into the soup and let it cook for about an hour more. Add avocado, lime, coriander, fresh tomatoes, and heated up tortillas on the side, and your guests can now enjoy one of Mexico's best dishes.
What Do You Think About These Mexican Soup Recipes?
What do you think about the above soups? Do you think that you can make these easy Mexican soup recipes at home? As we have had the pleasure of trying these authentic soups in Mexico, we can truly say that they are truly delectable.
Let us know when you prepare these soups and how they turned out. We would love to hear your opinions on some of our favorite Mexican cuisine.