Mexico offers a number of distinct and flavorful food traditions dating back to its ancient Mayan Indian roots as far back as 2000 years ago. According to the 2016 National Restaurant Association survey of what's trending today, authentic ethnic cuisine is a hot pick on today's restaurant menus.
And it's no surprise really, with Hispanics making up more than a quarter of the U.S. population today — and growing fast — experts say this change is dramatically flavoring the American culinary experience.
At Salsa Salsa we believe in fresh, authentic south-of-the-border cuisine made fresh to order, ensuring quality products for our customers each and every time.
Visit one of our three locations in Port Jefferson, Smithtown, and Bayport and round out your next Mexican fiesta visit with a Cerveza and some of our best Mexican side dishes under $10 including; Corn Crusted Calamari, Spicy Roast Pork Chili Verde, Grilled Fish Tacos, Fresh Grilled Shrimp, Crispy Seasoned Yucca Fries, and our tastiest Chips with Melted Jack & Cheddar Cheese, Sour Cream, Salsa Fresca & Scallions.
Or, if you've got the motivation to try some authentic south-of-the-border cooking at home instead, here are some of the best Mexican side dishes you can make yourself.
1. Sheet Pan Roasted Sweet Potato Black Bean Hash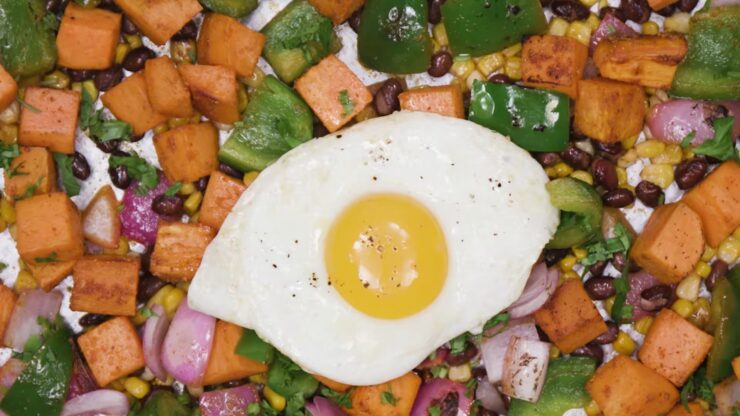 The sweetness of roasted sweet potatoes dressed in the earthy robustness of black makes this one-sheet-pan wonder a family favorite accompaniment to any meal. The key is first roasting the sweet potatoes, peppers, and zucchini until they are golden and cooked through, then tossing in the black beans and corn to get a last bit of color.
Make sure you season the potatoes with a healthy dose of the fragrant paprika, cumin chili powder, and salt first, and toss to coat with olive oil and diced garlic. Served with bright green diced cilantro, this simple side dish is also a heart-healthy accompaniment to any Mexican main dish, making it top the list of best Mexican side dishes you need to try.
Ingredients:
2 sweet potatoes, peeled and diced
2 medium zucchini, sliced
1 medium red pepper, diced
1 (15-ounce) can of black beans, drained and rinsed
1 cup corn kernels, fresh or frozen
3 tablespoons olive oil
2 tablespoons coarsely chopped cilantro leaves
3 cloves garlic, minced
1 teaspoon chili powder
1/2 teaspoon ground cumin
1/2 teaspoon smoked paprika
Kosher salt
Arrange a rack in the middle of the oven and heat to 425 degrees F. Lightly oil a large baking sheet and roast the sweet potatoes, zucchini, and pepper with the spices for 15-18 minutes, stirring halfway. Remove the pan and fold in black beans and corn. Serve immediately.
2. Hominy Soup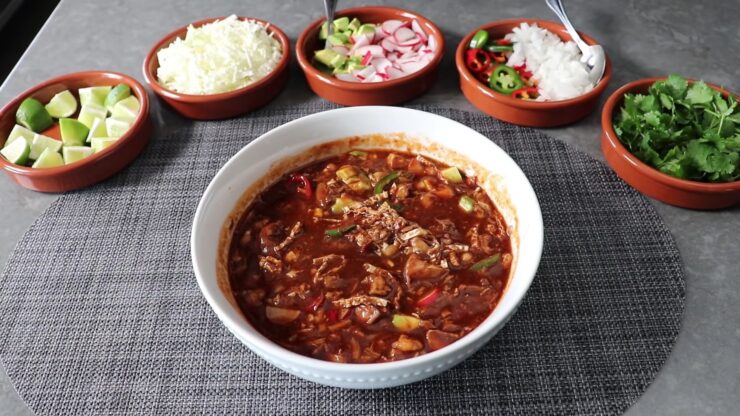 Hominy is often an overlooked ingredient at the grocery store that is essentially dried corn that has been soaked in a mineral lime bath – a process known as nixtamalization. The process softens the kernels and causes them to double in size resulting in a chewy puffy texture that is similar to beans.
Hominy Soup can really round out the flavors of any Mexican entree and is a soul-satisfying recipe that is rich in the authentic flavors of fresh lime and cumin and is a great alternative to chili.
Ingredients:
14-ounce can crush tomatoes or chunky tomato sauce
1 dried smoked chili pepper or 1 poblano pepper
14-ounce can hominy, rinsed and drained
14-ounce can of black beans, rinsed and drained
32 ounces (4 cups) of vegetable stock
1 medium white onion
2 cloves garlic
1 avocado
1 handful cilantro, loosely chopped
1 lime
1 teaspoon ground cumin
Olive oil
Salt
Peel and finely chop the garlic and onion. Remove the seeds and membranes from the dried Poblano peppers. In a medium pot or Dutch oven, heat some olive oil on medium heat and cook the onion, garlic, and Poblano for 4 to 5 minutes. Stir in the cumin, then the canned tomatoes and vegetable stock. Simmer for about 3 minutes, then add the hominy and black beans.
Cook for 8 to 10 minutes, or until slightly thickened, stirring occasionally. Season with salt and pepper to taste. To serve the soup: first, discard the dried chili pepper. Pour into individual bowls then top with some of the diced avocado, cilantro, and a lime wedge. Add hot sauce if you like it spicy!
3. Mexican Rice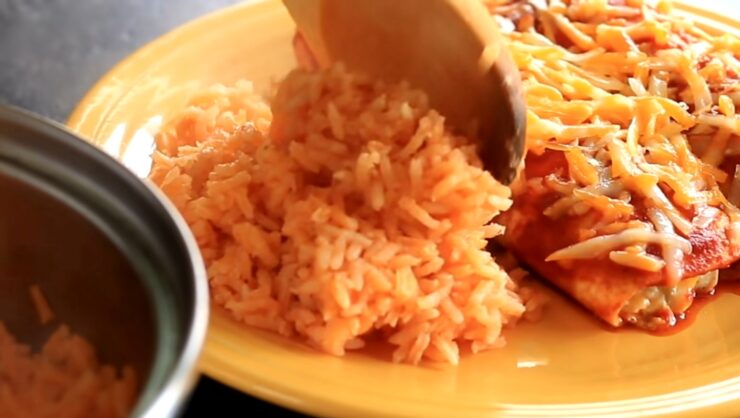 Spanish rice or Arroz Mexicano is a traditional Mexican side dish made from white rice, tomatoes, garlic, and onions. Every good Mexican chef has their own variation of this staple side dish, and for good reason – this steamy rice dish is easily adaptable and a comforting side to any meat or vegetarian entree.
Ingredients:
2 Tablespoons olive oil
2 cups Long Grain white rice
3 cloves garlic, minced
1/2 white onion, diced
1 can (10 oz) diced green chilies and tomatoes (such as Rotel)
1 can (15 oz) diced tomatoes
2 cups chicken or vegetable broth
1 teaspoon Cumin
1 teaspoon Kosher Salt
Fresh cilantro, chopped
Heat a large skillet drizzled with olive oil over medium heat. Cook the onions and garlic until translucent. Reduce the heat to low and pour in 2 cups of uncooked long grain white rice. Stir the mixture lightly then add both cans of tomatoes. Add 2 cups of broth along with your spices. Bring to a boil then reduce heat to low and simmer for about 10 minutes.
4. Homemade Salsa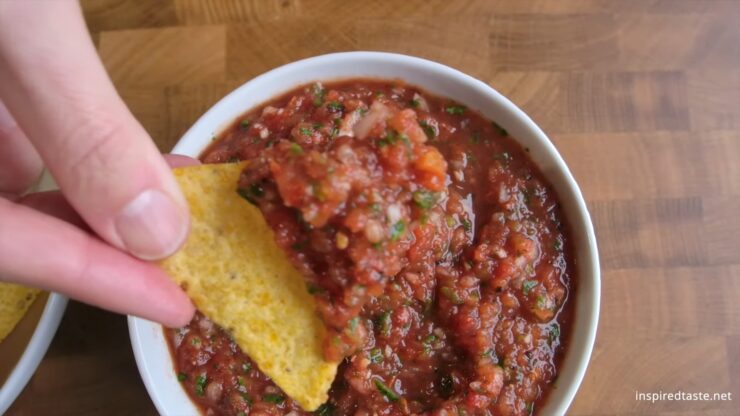 The Tortilla Industry Association estimates that Americans consumed approximately 85 billion tortillas in 2000, surpassing the sales of good old American hot dog buns since 2010. And once you realize how easy it is to make homemade salsa to go with your tortilla chips, you may never go back to store-bought.
Ingredients:
2 tablespoons olive oil
1/2 white onion, finely chopped
1 can (15 oz) diced tomatoes
2 garlic cloves, minced
1 jalapeno chile pepper, seeds, and membrane removed and finely chopped
1/2 cup cilantro, finely chopped
Juice of 1/2 lime
Combine all ingredients in a food processor and pulse until combined but still a bit chunky, about 15-20 seconds. Salt and pepper to flavor, then serve with your favorite tortilla chips. Ready to serve in less than 10 minutes, and no cooking required!
Do you like what you read today? Leave us your feedback!