What more could your friends ask for than to have a friend like you who knows how to make exotic dishes that will make their mouths water and make them want to try your cooking again and again. If you like to cook Mexican cuisine as we do, one of the best ways to impress is to prepare easy Mexican breakfast recipes that they will love.
Mexican food is truly delectable, no matter what you try and Mexicans know how to start the day off right with some easy Mexican breakfast dishes. Following are some easy Mexican breakfast recipes for you to get started:
1. Chilaquiles: A Favorite After-Party Dish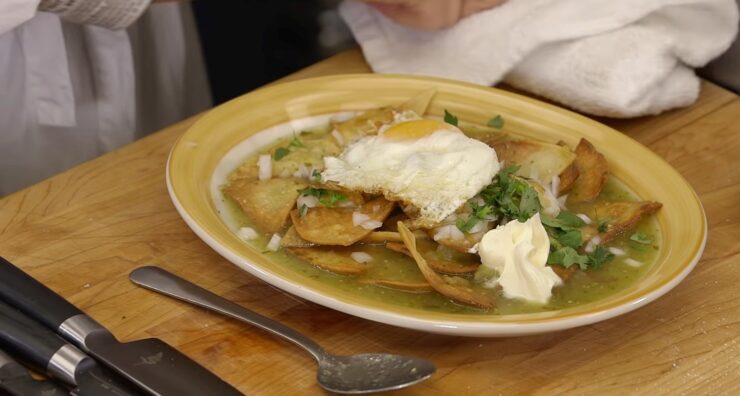 If you have some tortilla chips lying around, you're in luck. As one of the all-time favorites for a Mexican breakfast, chilaquiles are a unique dish that will make your mouth water every time you hear their name. Chilaquiles are often a favorite breakfast after a night out partying, but they can be eaten at any time.
What you will need:
Tortilla chips or stale corn tortillas
Green tomatillo
Garlic
Cilantro
Onion
Jalapeno
Cheese
Cream
Eggs
How to prepare:
Blend a sauce from the tomatillo, onion, cilantro, garlic, and if you want it to be spicy, jalapeno (Also, add a pinch or two of salt)
Fry the tortillas or lightly toast the tortilla chips
Add the sauce to the tortillas
Top with cheese and cream
If desired, fry an egg to add to each individual plate
Chilaquiles are one of the most flavorful and satisfying Mexican breakfasts and will be sure to be a hit in your household.
2. Huevo Rancheros -The Go-to Breakfast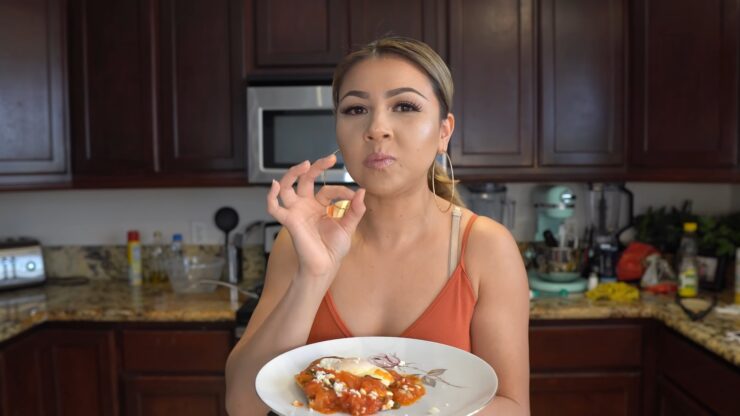 A simpler breakfast than chilaquiles, but equally delectable, the Huevos Rancheros are a classic breakfast fare in Mexico. If you and your friends like salsa and eggs, this breakfast will fit right in.
What you will need:
Eggs
Corn tortillas
Beans
Green tomatoes
Onions
Garlic
Cilantro
Jalapenos
How to prepare:
Prepare a salsa with the green tomatillo, onions, garlic, cilantro, and salt (You can also prepare a salsa with chipotle chiles and red tomatoes)
Gently heat up the tortillas. You want them to be just crispy enough, but not too much.
Fry two eggs
Lay the eggs on the tortillas and pour the salsa over it
You can prepare refried beans on the side and lightly top them with Queso fresco if you desire. Slices of avocado are also a pleasant addition.
3. Migas: An Interesting Twist on Scrambled Eggs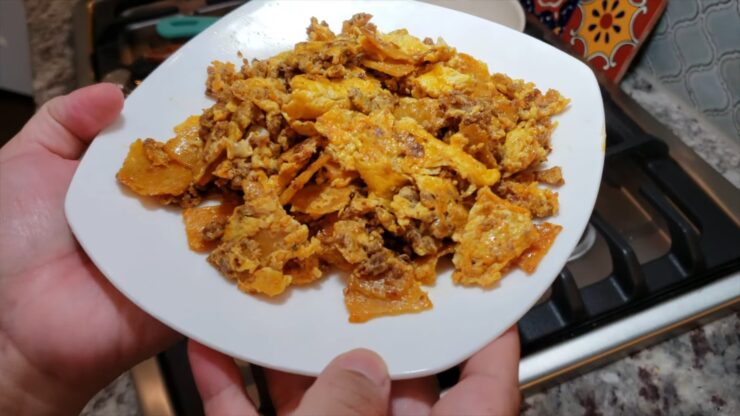 As you can see, Mexicans enjoy tortillas with their breakfasts and why wouldn't you when they combine so perfectly with eggs? Yet another favorite in Mexican households, Migas are a combination of simple ingredients that make something truly amazing.
What you need:
Onions
Tortillas (cut up in slices)
Salt
Cilantro
Eggs
Bell peppers
How to prepare:
Cut up the onions, peppers, and cilantro
Lightly fry the onions in the pan, if you like onions. If not, this recipe can be prepared without.
If you like bell peppers, add them in with the cilantro and fry with the onions.
Add the corn tortilla slices and fry them until they are at a decent crisp.
Mix up the eggs in a separate bowl and pour over the crispy tortillas slices and scramble.
If you have any salsa lying around, you can also add it to the mix and top with a light sprinkling of cheese (if desired)
Migas is a great breakfast to have when you are really hungry and want to fill up on plenty of goodness. Easy to make and tasty, they are truly a wonderful option for an easy Mexican breakfast recipe.
4. Huevos Divorciados: The Best of Both Worlds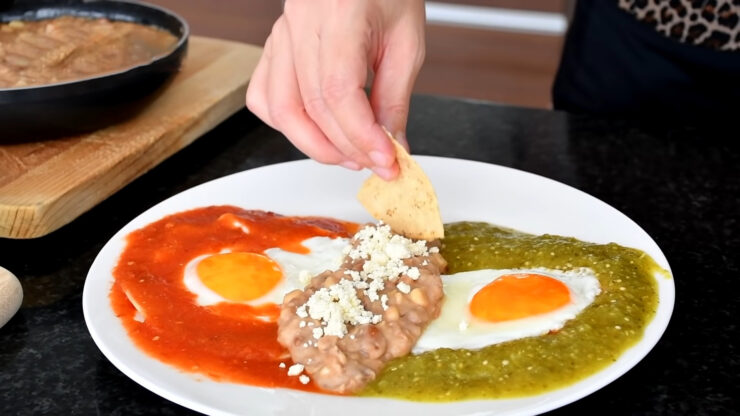 We love Huevos Divorciados and while not as easy as Huevos Rancheros, they are similar in presentation and deliciousness. It's the perfect dish for anyone who can't make up their mind about what flavor of sauce they want to eat, so they get to have the best of the both worlds.
What you will need:
Tortillas
Eggs
Onions
Cilantro
Garlic
Salt
Green tomatillo
Red tomatoes
Jalapenos
Hot pepper of your choosing
How to prepare:
First prepare the green salsa with the cilantro, salt, garlic, onions, green tomatillo, and jalapenos by lightly toasting the ingredients together in a pan and then blending with a bit of water in a blender.
Then, prepare the red salsa by doing the same with onions, red tomatoes, garlic, and the pepper of your choosing. Add salt.
Lightly toast the tortillas
Fry two eggs, then place one on one tortilla and top it with the green salsa
Place the other egg on the other tortilla and top it with the red salsa
If desired, serve the Huevos Divorciados with refried beans and guacamole
5. Molletes: A Simple But Satisfying Breakfast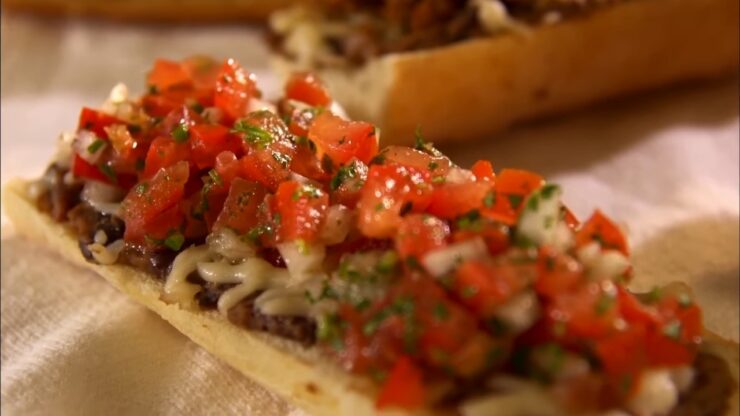 Molletes are perfect for that quick yet delicious breakfast that you want on a Saturday morning before a busy day of adventure. They are delectably and extremely easy to make.
What you need:
Bread (Sliced rolls or baguette-style bread)
Beans
Cheese
Tomatoes
Eggs (If desired)
Onions
Bell pepper or jalapeno
Lime
Salt
How to prepare:
Preheat your oven
Spread refried beans on rolls and then top them with a generous amount of cheese
Bake them in the oven until the cheese is melted
Chop up tomatoes, jalapeno (if you want it to be spicy), and onions, and top it with lime and salt to make what is known as pico de gallo.
If you want to add eggs, fry two and top the rolls with an egg each. Finally, top the finished product with your pico de gallo.
This is a simple but truly satisfying dish that is as delicious as it is easy to make. You will definitely impress with a breakfast of molletes, no matter what the occasion. We love the 5 breakfasts on our list.
They are easy to prepare, made with delectable ingredients, and will undoubtedly satisfy your taste buds. What are your favorite Mexican breakfast dishes? We would love to hear about them.