Everyone knows that Mexico has wonderful cuisine that makes your mouth water just thinking about it. Beyond the enchiladas, soups, and huaraches, Mexico also has some uniqueand best of the best Mexican pizza recipes.
If you have a party coming up and want to wow your guests with fabulous food, the dishes below are the best Mexican pizza recipes.
1. The Loaded Mexican Pizza You Don't Want to Miss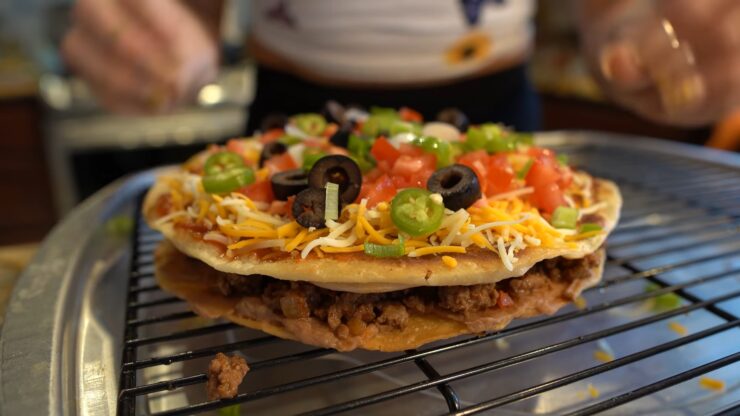 Let's just say that there will be no room left for hunger after this pizza is served. As one of the many types of Mexican pizza, there is no doubt that this is a favorite. To start preparing for this mouth-watering dish, you will want to make sure that you have these ingredients:
Prebaked Pizza Crust or make your own pizza dough
Garlic
Cumin
Bell peppers
Tomatoes
Peppers
Onion
Cilantro
Chili powder
Black beans
Cheddar Cheese
Pepper Jack Cheese (or the cheese you prefer)
Ground beef
You will want to start with the beans, as they will be the base of your pizza toppings. Add chopped onions and bell peppers, cumin, and chili. Make sure that everything is mixed well and that the bean consistency is spreadable.
Your next step will be to mix tomatoes, hot peppers (jalapenos will work fine), and garlic. If you have prepared your dough or are using prebaked pizza crust, spread the bean and tomato/pepper mix. Before you go on, you will want to start to fry ground beef with chili powder (add salt if you like). Once the meat is fully cooked, put it all over the pizza and then top it with cilantro and cheese.
Next, you will want to put it in the preheated oven at 400 degrees. Once the cheese is melted and the pizza looks ready, pull it out and you're ready to impress your guests. The end result will be a tasty combination of goodness.
2. The Vegetarian Mexican Pizza That Will Make Your Mouth Water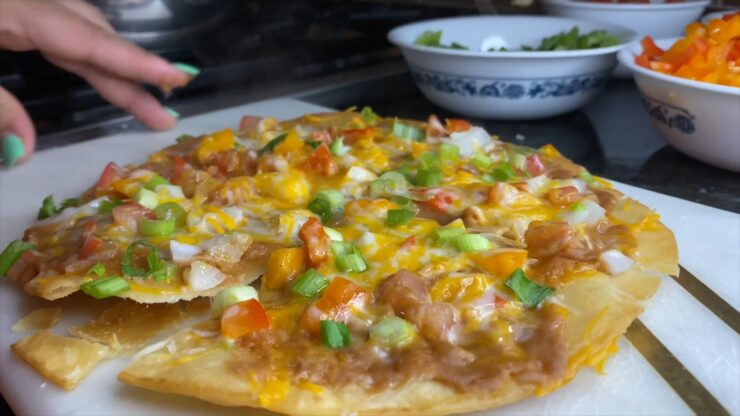 The above dish is a favorite for those who like meat. You will most likely have some guests who would prefer a vegetarian dish. The following pizza is a fantastic option for vegetarians and meat lovers alike. Check out the ingredients:
Refried black beans (Store-bought or homemade)
Jalapeno peppers
Onions
Garlic
Green Tomatoes
Salt
Tomatoes
Cilantro
Olives
Yellow peppers
Cheeses (of your choosing)
Vegetables (of your choosing)
Pizza crust
If you decide to make your own pizza crust or buy prebaked, make sure it's prepared before anything else. If you make your own refried beans, put the black beans on to cook while you prepare a salsa from jalapenos, onions, green tomatoes, garlic, and salt.
You will first want to fry these ingredients and then blend them together to make a thick sauce. If you and your guests like spicy flavors, include as many jalapenos as necessary. If not, leave the jalapenos out.
Once the refried beans are ready, mix them with the salsa to create a thick and flavorful base for your other toppings. After you have spread the bean/salsa mix, top the pizza with your cheeses, tomatoes, cilantro, yellow peppers, and olives. If you have chosen to add other vegetables, you will want to add them now as well.
Bake for around 10-15 minutes or until the cheese is completely melted. After the pizza is baked, you can top it with avocado slices or leave them on the side for people to add if they wish. Y ya listo! The pizza is served!
3. The Taco Mexican Pizza: Tastes Like a Taco, Looks Like a Pizza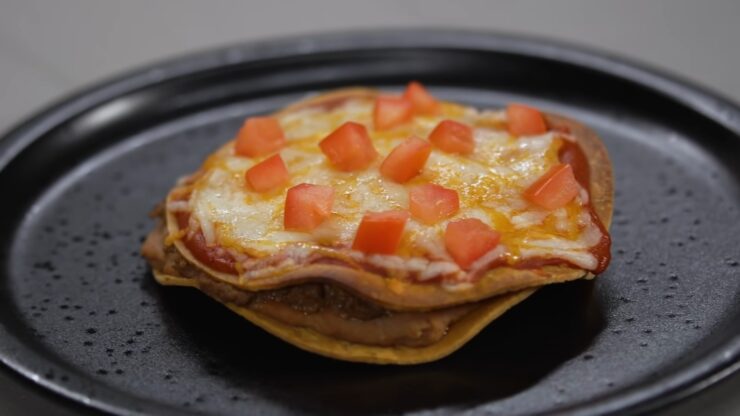 It may have more of a Tex-Mex flavor, but that doesn't take away from its fun and feisty taste. The Taco Mexican Pizza is always a hit amongst party guests. To start preparing this delectable dinner, you will need the following ingredients:
Corn tortillas
Ground beef
Refried beans
Cumin
Chili
Salt
Onions
Garlic
Green peppers
Tomatoes
Sour Cream
Cheddar cheese
Cilantro
Avocado
Your first step is to prepare refried beans, then get your ground beef to fry in a skillet with cumin, chili, onions, garlic, and salt. In another skillet, lightly brown your tortillas in vegetable oil. Make sure to drain excess oil on paper towels. Chop up tomatoes, cilantro, green peppers, and onions and mix them together as a "pico de gallo."
Spread the beans, cheese, and ground beef over the tortillas. Bake the pizzas in the oven for around 20 minutes. Cut them into slices or serve the whole of the mini pizza. Place the pico de gallo in a side dish for guests to top their pizzas according to their preference.
Serve sour cream and avocado slices on the side as well. If you have guests who like spicy food, prepare a salsa of your choosing or serve store-bought salsa for your friends to top their taco pizzas with.
What Do You Think?
What do you think of the above recipes? They are some of the best Mexican pizza recipes yet each one is different. Which one do you think will be a success in your household or for your party guests?
We especially loved the loaded Mexican pizza, as it's a deliciously filling option that is nearly always a favorite. If you enjoy Mexican pizzas, let us know which type of Mexican pizza is your favorite.